Published 6 Oct 2017 by IHNZ Operations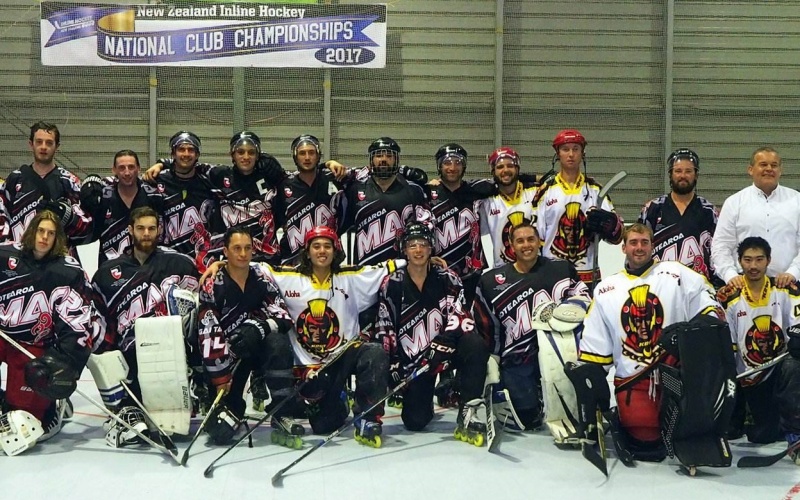 In 2017 the IHNZ hosts 52 teams in New Plymouth for their National Club Championships. With a growth seen in Open Senior resulting in 12 teams entered plus a further 8 teams in the Premier division the decision to cater for all teams expresssing an interest to compete was undertaken. 
After organising a succeessful campaign to Hawaii in 2016 and after some well placed networking resulting in the KIHA Warriors agreement to attend in 2017, a concurrent event will take place providing two exhibition games and a "best of five" Pacific Series for spectators and players featuring the NZ Maori Team, the Super League winners, Mud Dogs and a selected "All Stars" team. 
Professional streaming will be undertaken to promote the sport via online services both nationally and globally. IHNZ are grateful to FST for their support. The local club have reached out to  secure support from PrimoWireless and TBS (scaffolding) to ensure an exceptional viewer experience. Game links will be shared for live access prior to the NZ Maori game on October 3rd.
Sincerest appreciation to officials who have committed their time to the scorebench, referee duties and administration of this major National event.
Results from each game below (reverse order)
Premier Final Winners Capital Penguins (4) Christchurch Snipers (0)
NUMBER
GRADE
PL-RR
HOME
GOALS
VS
AWAY
GOALS
145
PREMIER
Bronze final
 
ORCAS 6 - SABRES 3
 
 
144
UNDER 19
Gold Silver Final
PANTHERS 3 - PENGUINS 6
 
 
143
SENIOR WOMEN
Gold Silver Final
DEVILS 5 - PANTHERS 0
 
 
142
PREMIER
 
SNIPERS
5
V
SABRES
4
141
PREMIER
 
PENGUINS
6
V
ORCAS
1
140
UNDER 10
Gold/Silver FINAL
PANTHERS 1- DEVILS 10
 
 
139
Under 19
 
PANTHERS
6
V
RAVENS
2
138
PREMIER
 
STINGRAYS
4
V
ORCAS
7
137
PREMIER
 
PANTHERS
4
v
SNIPERS
6
136
PREMIER
 
RENEGADES
Forfeit
V
SABRES
5
135
PREMIER
 
PENGUINS
 
V
JOKERS
 
134
Under 10
 
PANTHERS
10
v
VIPERS
3
133
PACIFIC SERIES
KIHA WARRIORS
5
v
ALL STAR GREEN
3
132
Under 19
 
RAVENS
6
v
RENEGADES
Forfeit
131
Senior Women
 
RAVENS
1
v
DEVILS
7
130
PACIFIC SERIES
KIHA WARRIORS
4
v
ALL STAR BLUE
3
129
Under 10
 
DEVILS
3
v
VIPERS
3
128
Under 10
 
RAVENS
2
v
PANTHERS
5
127
Under 19
 
PENGUINS
5
v
RENEGADES
FORFEIT
126
PREMIER
 
ORCAS
5
v
JOKERS
1
125
PREMIER
 
RENEGADES
FORFEIT
v
PANTHERS
5
124
Senior Women
 
PANTHERS
6
 
RAVENS
5
123
Under 10
 
RENEGADES
1
v
VIPERS
18
122
Under 10
 
RAVENS
2
v
DEVILS
4
121
Under 19
 
RAVENS
3
v
SNIPERS
5
120
Under 19
 
PANTHERS
9
v
RENEGADES
FORFEIT
119
PACIFIC SERIES
KIHA WARRIORS
2
v
ALLSTARS GREEN
6
118
Senior Women
 
DEVILS
9
v
PANTHERS
1
117
Under 10
 
RENEGADES
0
v
DEVILS
11
116
Under 10
 
PANTHERS`
8
v
VIPERS
6
115
Premier
 
ORCAS
7
v
SNIPERS
5
114
Premier
 
SABRES
7
v
JOKERS
1
113
Senior Women
 
RAVENS
2
v
DEVILS
6
112
Premier
 
RENEGADES
FORFEIT
v
STINGRAYS
6
111
Premier
 
PENGUINS
8
v
PANTHERS
3
110
Under 19
 
PENGUINS
5
v
SNIPERS
3
109
Under 19
 
RAVENS
1
v
PANTHERS
5
108
PACIFIC SERIES
KIHA WARRIORS 5
6
v
ALLSTAR BLUE
6
107
Senior Women
 
PANTHERS 4
2
v
RAVENS
1
106
Premier
 
JOKERS
0
v
SNIPERS
5
105
Premier
 
PANTHERS
4
v
STINGRAYS
1
104
Premier
 
SABRES
7
v
ORCAS
0
103
Premier
 
PENGUINS
7
v
RENEGADES
0
102
Under 10
 
RENEGADES
7
v
PANTHERS
21
101
UNDER 10
 
RAVENS
2
v
VIPERS
4
100
Senior Women
 
DEVILS
4
v
PANTHERS 
2
99
PACIFIC SERIES
KIHA WARRIORS 
5
v
ALLSTAR GREEN 
3
98
Under 19
RR
SNIPERS
8
v
RENEGADES
6
97
Under 19
RR
PENGUINS
2
v
PANTHERS 
1
96
Under 10
RR
PANTHERS
2
v
DEVILS
5
95
Under 10
RR
RAVENS
10
v
RENEGADES
1
94
Premier
PP
PENGUINS
5
v
STINGRAYS
3
93
Premier
PP
SABRES
5
v
SNIPERS
1
92
Under 19
RR
PANTHERS 
6
v
SNIPERS
FORFEIT
91
Under 19
RR
RAVENS
1
v
PENGUINS
2
90
GAME BREAK 
 
 
 
 
 
 
89
EXHIBITION GAME
 
TEAM MUDDOGS 2 – KIHA WARRIORS 4
 
88
Senior Men
FINAL
 
PANTHERS 2 – RENEGADES 5
 
 
87
Senior Men
Bronze Final
 
LIGHTNING 7 – SNIPERS 1
 
 
86
Under 16
Gold Silver FINAL
PANTHERS 0  - DEVILS 4
 
 
85
Under 14
Gold/ Silver FINAL
DEVILS 5 – PENGUINS 3
 
 
84
Under 12
Gold/Silver FINAL
RAVENS 5 – PANTHERS 6
 
 
83
Open Senior
Semi
RENEGADES
4
v
SNIPERS
3
82
Open Senior
Semi
PANTHERS
3
v
LIGHTNING
1
81
Under 16
Bronze Final
 
PANTHERS 4 – PENGUINS 3 (3rd

)

 
80
Under 14
Bronze Final 
 
PANTHERS 1 (3rd)– DEVILS 2 
 
 
79
Under 12
Bronze Final
 
RAVENS 4 – DEVILS 2 (3rd

)

 
 
78
Open Senior
SEMI 4
REBELS
3
v
LIGHTNING
6
77
Open Senior
SEMI 3
RENEGADES
6
v
MUSTANGS
3
76
Open Senior
SEMI 2
SNIPERS
2
v
DEVILS
1
75
Open Senior
SEMI 1
RAVENS
2
v
PANTHERS
3
74
Exhibition
 
KIHA WARRIORS 
4
v
NZ MAORI
7
72
Open Senior
B
TYPHOONS - Forfeit due to injuries
 
 
71
Open Senior
B
LIGHTNING
12
v
WHALERS
0
70
Open Senior
B
MUSTANGS
1
v
DEVILS
3
69
Under 16
RR`
MINERS
1
v
PENGUINS
11
68
Under 14
RR
RAVENS
2
v
PENGUINS
6
67
Open Senior
A
WHITEHAWKS
0
v
SNIPERS
5
66
Open Senior
A
RENEGADES
5
v
REBELS
3
65
Open Senior
A
MINERS
2
v
RAVENS
8
64
Junior Women
Gold/Silver FINAL
DEVILS 4 - PANTHERS 5
 
 
63
Under 12
RR
RENEGADES
3
v
THUNDER
7
62
Under 12
RR
PANTHERS
12
v
STINGRAYS
4
61
Under 12
RR
RAVENS
3
v
DEVILS
2
60
Open Senior
B
WHALERS
2
v
PANTHERS
4
59
Open Senior
B
MUSTANGS
2
v
LIGHTNING
8
58
Open Senior
B
DEVILS
8
v
TYPHOONS
0
57
Open Senior
A
REBELS
2
v
WHITEHAWKS
1
56
Open Senior
A
MINERS
0
v
RENEGADES
10
55
Open Senior
A
RAVENS
7
v
SNIPERS
3
54
Under 16
RR
RAVENS
3
v
PENGUINS
8
53
Under 16
RR
MINERS
2
v
DEVILS
7
52
Junior Women
BRONZE FINAL
RAVENS 0 (3RD)  - DEVILS 5
 
 
51
Under 12
RR
RENEGADES
8
v
STINGRAYS
6
50
Under 12
RR
DEVILS
7
v
THUNDER
1
49
Under 12
RR
RAVENS
3
v
PANTHERS
5
48
Under 14
RR
PANTHERS
2
v
PENGUINS
1
47
Under 14
RR
RAVENS
9
v
RENEGADES
Forfeit
46
Junior Women
RRx2
PANTHERS
8
v
RAVENS
1
45
Under 16
RR
PANTHERS
1
v
DEVILS
1
43
Under 12
RR
RAVENS
3
v
THUNDER
1
42
Under 12
RR
DEVILS
18
v
STINGRAYS
0
41
Under 14
RR
DEVILS
12
v
RENEGADES
Forfeit
40
Open Senior
B
WHALERS
3
v
DEVILS
6
39
Open Senior
B
MUSTANGS
8
v
TYPHOONS
2
38
Open Senior
B
PANTHERS 
3
v
LIGHTNING
5
37
Open Senior
A
REBELS
2
v
RAVENS
4
36
Open Senior
A
MINERS
1
v
SNIPERS
14
35
Open Senior
A
WHITEHAWKS
1
v
RENEGADES
4
34
Under 16
RR
PANTHERS
5
v
RAVENS
1
33
Under 14
RR
DEVILS
4
v
PANTHERS
1
32
Open Senior
B
MUSTANGS
6
v
WHALERS
1
31
Open Senior
B
LIGHTNING
4
v
TYPHOONS
1
30
Open Senior
B
PANTHERS
0
v
DEVILS
2
29
Junior Women
RR
DEVILS
3
v
PANTHERS
1
28
Under 16
RR
DEVILS
3
v
PENGUINS
1
27
Under 16
RR
MINERS
3
v
RAVENS
5
26
Under 14
RR
Renegades
1
v
PENGUINS
12
25
Under 14
RR
RAVENS
2
v
PANTHERS
4
24
Junior Women
RRx1
RAVENS
1
v
DEVILS
7
23
Under 12
RR
RAVENS
5
v
STINGRAYS
0
22
Under 12
RR
RENEGADES
1
v
DEVILS
16
21
Under 12
RR
PANTHERS
7
v
THUNDER
5
20
Open Senior
A
MINERS
2
v
REBELS
5
19
Open Senior
A
ARENEGADES
6
v
SNIPERS
4
18
Open Senior
A
WHITEHAWKS
1
v
RAVENS
3
17
Open Senior
B
TYPHOONS
4 
v
WHALERS
1 
16
Open Senior
B
DEVILS
5
v
LIGHTNING
1 
15
Open Senior
B
PANTHERS
4
v
 MUSTANGS
5
14
Under 16
RR
PANTHERS
5
v
PENGUINS
3
13
Under 14
RR
DEVILS
2
v
PENGUINS
4
12
Open Senior
A
SNIPERS
2
v
REBELS
3
11
Open Senior
A
RAVENS
7
v
RENEGADES
4
10
Open Senior
A
WHITEHAWKS
4
v
MINERS
3
9
Junior Women
RRX1
PANTHERS
7
v
RAVENS
3
8
Under 16
RR
RAVENS
0
v
DEVILS
9
7
Under 16
RR
PANTHERS
5
v
MINERS
3
6
Under 14
RR
PANTHERS
6
v
RENEGADES
1
5
Under 14
RR
DEVILS
1
v
RAVENS
0
4
Junior Women
RRX1
DEVILS
4
v
PANTHERS
2
3
Under 12
RR
THUNDER
9
v
STINGRAYS
2
2
Under 12
RR
PANTHERS
5
v
DEVILS
3
1
Under 12
RR
RAVENS
14
v
RENEGADES
1
Click on an image to enlarge: