Published 5 Jul 2014 by NZIHA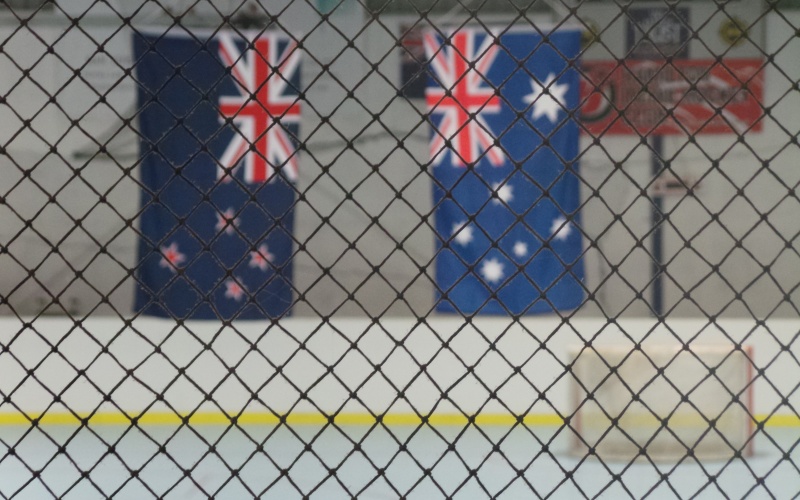 Oceania Inline Hockey Championships are underway in Hamilton with a Powhiri held at the Kirikiriroa Marae. The weather cleared for a spell early morning during the ceremony involving the Australian and New Zealand teams.
The official march past and opening of the games was lead by Deputy Mayor Gordon Chesterman with the players path presented by Damien Bowden ( NZ Masters and a Hamilton player).
The opening game resulted in a win to the NZ masters team.
Game Results Chart
Game results will be posted here as they complete.
Day One
| | | | | | | | |
| --- | --- | --- | --- | --- | --- | --- | --- |
| 1pm | Masters | NZ MASTERS | 7 | vs | 1 | AUS MASTERS | Game 1 |
| 2pm | 12 Under | NZ 12 & UNDER | 2 | vs | 6 | AUS 12 & UNDER | Game 1 |
| 3pm | 14 Under | NZ 14 & Under | 6 | vs | 0 | AUS 14 & UNDER | Game 1 |
| 4pm | 17 Under | NZ 17 & UNDER | 3 | vs | 2 | AUS 17 & UNDER | Game 1 |
| 5pm | Junior Women | NZ JUN WMN | 4 | vs | 1 | AUS JUN WMN | Game 1 |
| 6pm | 12 Under | LWR 12 & UNDER | 6 | vs | 1 | CTRL 12 & UNDER | SS RR1 |
| 7pm | 14 Under | LWR 14 & Under | 0 | vs | 6 | CTRL 14 & UNDER | SS RR1 |
| 8pm | 17 Under | LWR 17 & UNDER | 2 | vs | 5 | CTRL 17 & UNDER | SS RR1 |
| 9pm | Veterans | NZ VETERANS | 4 | vs | 6 | AUS VETERANS | Game 1 |
Day Two
| | | | | | | | |
| --- | --- | --- | --- | --- | --- | --- | --- |
| 9am | 12 Under | NTH 12 & UNDER | 2 | vs | 12 | AUS 12 & UNDER | SS RR2 |
| 10am | 14 Under | NTH 14 & UNDER | 6 | vs | 3 | AUS 14 & UNDER | SS RR2 |
| 11am | 17 Under | NTH 17 & UNDER | 6 | vs | 3 | AUS 17 & UNDER | SS RR2 |
| 12pm | Masters | AUS MASTERS | 0 | vs | 3 | NZ MASTERS | Game 2 |
| 1pm | Veterans | AUS VETERANS | 0 | vs | 2 | NZ VETERANS | Game 2 |
| 2pm | Junior Women | AUS JUN WMN | 0 | vs | 1 | NZ JUN WMN | Game 2 |
| 3pm | 12 Under | CTRL 12 & UNDER | 6 | vs | 4 | NTH 12 & UNDER | SS RR3 |
| 4pm | 14 Under | CTRL 14 & UNDER | 6 | vs | 4 | NTH 14 & UNDER | SS RR3 |
| 5pm | 17 Under | CTRL 17 & UNDER | 0 | vs | 5 | NTH 17 & UNDER | SS RR3 |
| 6pm | 12 Under | AUS 12 & UNDER | 3 | vs | 0 | LWR 12 & UNDER | SS RR4 |
| 7pm | 14 Under | AUS 14 & UNDER | 6 | vs | 1 | LWR 14 & Under | SS RR4 |
| 8pm | 17 Under | AUS 17 & UNDER | 4 | vs | 5 | LWR 17 & UNDER | SS RR4 |
| 9pm | Veterans | NZ VETERANS | 5 | vs | 2 | AUS VETERANS | Game 3 |
Day Three
| | | | | | | | |
| --- | --- | --- | --- | --- | --- | --- | --- |
| 8am | 12 Under | LWR 12 & UNDER | 6 | vs | 3 | NTH 12 & UNDER | SS RR5 |
| 9am | 14 Under | LWR 14 & Under | 1 | vs | 11 | NTH 14 & UNDER | SS RR5 |
| 10am | 17 Under | LWR 17 & UNDER | 4 | vs | 5ot | NTH 17 & UNDER | SS RR5 |
| 11am | Junior Women | NZ JUN WMN | 4 | vs | 1 | AUS JUN WMN | Game 3 |
| 12pm | 12 Under | AUS 12 & UNDER | 3 | vs | 1 | NZ 12 & UNDER | Game 2 |
| 1pm | 14 Under | AUS 14 & UNDER | 0 | vs | 10 | NZ 14 & Under | Game 2 |
| 2pm | 17 Under | AUS 17 & UNDER | 3 | vs | 4 | NZ 17 & UNDER | Game 2 |
| 3pm | Masters | NZ MASTERS | 4ot | vs | 3 | AUS MASTERS | Game 3 |
| 4pm | 12 Under | CTRL 12 & UNDER | 1 | vs | 9 | AUS 12 & UNDER | SS RR6 |
| 5pm | 14 Under | CTRL 14 & UNDER | 4 | vs | 3 | AUS 14 & UNDER | SS RR6 |
| 6pm | Junior Women | AUS JUN WMN | 0 | vs | 9 | NZ JUN WMN | Game 4 |
| 7pm | 17 Under | CTRL 17 & UNDER | 4 | vs | 6 | AUS 17 & UNDER | SS RR6 |
| 8pm | Veterans | AUS VETERANS | 3 | vs | 9 | NZ VETERANS | Game 4 |
| 9pm | Masters | AUS MASTERS | 1 | vs | 7 | NZ MASTERS | Game 4 |
Day Four
| | | | | | | | |
| --- | --- | --- | --- | --- | --- | --- | --- |
| 10am | 12 Under | NZ 12 & UNDER | 4 | vs | 3 | AUS 12 & UNDER | Game 3 |
| 11am | 14 Under | NZ 14 & Under | 8 | vs | 0 | AUS 14 & UNDER | Game 3 |
| 12pm | 17 Under | NZ 17 & UNDER | 4 | vs | 2 | AUS 17 & UNDER | Game 3 |
| 1pm | Junior Women | NZ JUN WMN | 7 | vs | 0 | AUS JUN WMN | Game 5 |
| 2pm | Veterans | NZ VETERANS | 3 | vs | 2 | AUS VETERANS | Game 5 |
| 3pm | Masters | NZ MASTERS | 5 | vs | 3 | AUS MASTERS | Game 5 |
Click on an image to enlarge: